Andrea starts off this sweet and spicy episode with another recommendation for the Preheated Podcast Book Club: Born Round by Frank Bruni, a former food critic for the New York Times. Then the gals step into the Gadget Garage, where Andrea touts the features of her Vitamix blender (so helpful for green smoothies and almond flour — or butter if you blitz the nuts too long), and Stefin shares that Friend of the Podcast, Santa Claus, brought her a food scale for Christmas.
That scale came in handy while wrestling with various measurements of melting chocolate called for in the Chocolate Bark with Chipotle and Almonds. Though Stefin loved the color of the hot pink melting wafers, she thought the taste a little too reminiscent of Circus Animal cookies. Fortunately, Andrea shares several modifications that deliciously solved this problem (and many others). Finally, a fiddling success! Here's the link to Andrea's version of the bark.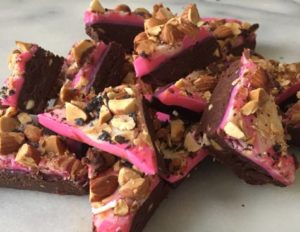 Speaking of Friends of the Podcast, we're sure our third president Thomas Jefferson would approve of our fourth and final 2017 baking resolution: Try an Old-Fashioned Recipe, and the dessert he would recognize: Raspberry Flummery. No, it's not a Harry Potter spell, it's a refreshing and beautiful gelatin dessert, popular in the 18th and 19th centuries! Our version is from one of Stefin's favorite baking books, Classic Home Desserts by Richard Sax. Bake along with us and post your pictures to our Facebook group!
Bake to the future, Andrea and Stefin take a walk down the prepackaged cookie aisle and share some favorites: Oreos (including the yummy new mint version), Nutter-Butters, Famous Chocolate Wafers and Gingersnaps. Sometimes there's no improving on perfection.
===
If  you're intrigued by our podcast, make it easy on yourself and subscribe. That way you can listen to more than one episode, and have them download automatically on your phone or tablet.
*Amazon links are affiliate, meaning we receive a few cents when you purchase through our link.