Stefin kicks off the episode with an update on some quick bread loaves she's made recently. First up is a Cranberry Ginger loaf, which is an extremely moist and delicious way to clean out the kitchen post-holidays. Next in the rotation was Earl Grey tea bread with a lemon glaze. Stefin wrapped her breads in some festive foils from Daiso Japan and both the hosts agree it's a fabulous place to find some inexpensive baking gadgets and supplies. Andrea gushed about her recent visit to Quin Candy in Portland, OR, and is hoping listeners might have some ideas and recommendations for making homemade Starburst-like candies.
Listeners, any candy recipes to recommend for us?
Martha Stewart is normally quite reliable, but this tarte tatin threw both our hosts for a loop. While Andrea did have success with the recipe, she managed to set off the smoke detector and completely skipped Step 4 (the stovetop cook step). Andrea cut the recipe in half and cooked the tarte in her 5 inch skillet, which is a perfect size for 2-3 people.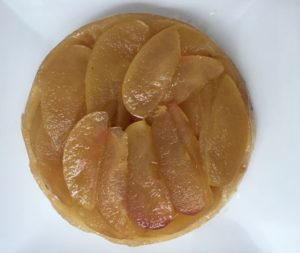 She also admitted to loving her new unitasker – the apple corer! Meanwhile, Stefin found challenges at multiple stages of the recipe. Whether it was apples that were too large, too much lemon juice on the apples, too much stirring in the caramel stage, or too much time on the stovetop, ultimately the tart was overly juicy and didn't set up for Stefin. The hosts strongly recommend you watch Martha's tarte tatin video so you can see the specific steps. If you're going to attempt to bake this, we'd love to hear about your results and see your photos.
Next up, the hosts introduced 'desperation pies' which historically have been used when you didn't have all of the ingredients you needed readily on hand. Vinegar, buttermilk, chess and raisin, anyone? The hosts have chosen a chocolate chess pie from blogger Christin at TheSpicySouthernKitchen.com. The hosts debate the true origin of the phrase "chess pie" and decide no matter what you call it, it's going to be delicious, easy and quick to come together. This is another single crust pie, so no need to make a stop at Intimidation Station with this pie! Stefin also wanted to share the website What's Cooking America with the listeners as a fabulous source for historical and regional facts about the foods we love to bake.
Week 3 of Pie School kicked off with the hosts admitting a shared challenge: blind baking. Andrea recommended Stefin try freezing her crusts to stop the side slump that's been happening, although it hasn't fixed her most common issue: shrinkage. Stefin is going to continue to use her pie weights but may consider adding beans on top! We'd love your blind baking tops and questions as we continue on with National Pie Month.
==
If  you're intrigued by our podcast, make it easy on yourself and subscribe. That way you can listen to more than one episode, and have them download automatically on your phone or tablet.
*Amazon links are affiliate, meaning we receive a few cents when you purchase through our link.
Save
Save
Save
Save
Save
Save
Save