Stefin kicks off the show with a new discovery – Aquafaba. It refers to the cooking liquid of beans like chickpeas, and can used to replace egg whites in many sweet recipes, like meringue. The mix of starches, proteins, and other plant solids gives aquafaba emulsifying, foaming, binding, gelatinizing and thickening properties.
Listeners, have you ever heard of Aquafaba? Have you ever tried it?
Andrea started reading (actually listening) to Garlic and Sapphires by Ruth Reichl, one of Stefin's book recommendations back from Episode 11. So far the Thai Noodles have been a hit at dinner and breakfast, making it a winner recipe in both the hosts' minds.
Another quick update – Biscoff cookies are taking over the nation since the Preheated co-hosts discovered them back in Episode 13. Andrea heard Dorie Greenspan talking about them in a Milk Street Podcast interview, and Dorie said she will crush Biscoff cookies into crust, or sprinkle over panna cotta. You can even find Biscoff cookies at Costco now, so there's no reason not to try baking our Totally Biscoff Pie. (If you have leftover Biscoff cookie butter, try listener Jeanne's delicious Biscoff Banana Breadz.)
On to the Chocolate Chess Pie from Christin at SpicySouthernKitchen.com which both our hosts agree is a winner!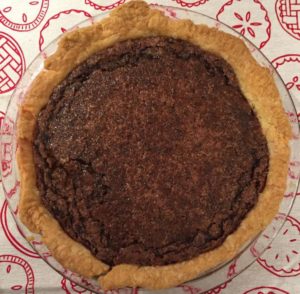 It's basically a brownie pie, and you're likely to have all of the ingredients on hand in your pantry. It's so easy, it will remind you of baking a pumpkin pie, and it will only take you  7 minutes (not including the crust). Two thumbs up from both our hosts! If you bake this, be sure to chill it overnight so it sets up properly.
For the last week of National Pie Month, our hosts shared their two favorite pies. Stefin chose a Key Lime Pie, based on a pie she originally had at the Blond Giraffe in Key West. While the recipe calls for actual key limes, feel free to substitute a regular Persian lime if that's all you can find. Andrea discussed her favorite, a Marionberry Pie from Anjou Bakery. (Note: On the show Andrea said the pie was from Bon Appetit magazine, it actually was from Sunset Magazine. Apologies!) The top crust is simply rectangles, flung on top of the pie, without a careful pattern. It looks completely do-able, and the random pattern leaves lots of room for creativity. In Andrea's version of the pie, she has swapped out the cornstarch for Kraft Minute Tapioca, which acts as a great thickener. The hosts discussed the handy use of ice cream to cover a multitude of sins when it comes to a pie that may not turn out just perfectly, so don't let a pie fail keep you from baking more! Or try Alton Brown's Leftover Apple Pie Milkshake recipe.
For our final pie school lesson, Andrea and Stefin discussed preparing pie crust ahead of time and freezing it. Andrea has even gone so far as to prepare an entire pie (crust and filling) and freeze it in it's entirety,  let it thaw in the refrigerator overnight, and then bake the pie the next day. Read more about this frozen pie trick on King Arthur's blog to give you the specifics of this technique. Stefin is convinced that her idea of Nirvana is opening her chest freezer and seeing it stacked full of frozen homemade pies!
==
If  you're intrigued by our podcast, make it easy on yourself and subscribe. That way you can listen to more than one episode, and have them download automatically on your phone or tablet.
*Amazon links are affiliate, meaning we receive a few cents when you purchase through our link.
Save
Save
Save
Save
Save
Save
Save
Save
Save