Stefin kicks off the show with an update on her latest discovery – aquafaba pavlova. Her one word review? "Huh." Both our hosts remain baffled at the way chickpea juice magically turns into a sweet, fluffy substitute for meringue.
On to some more traditional recipes that fit in with March – our  Puddings and Custards month. Stefin is trying out an Ozark pudding, one of Harry Truman's favorites. She also whipped up a Caramel Ginger Wild Rice Pudding, another slow cooker recipe and even easier as you don't have to pre-cook the rice. Next up to try is Carla Hall's slow cooker cheesecake, as soon as we locate a 6″ springform pan!
The hosts reviewed their Southern Banana Pudding recipe from Angie at Big Bear's Wife blog and enjoyed the smell of roasting bananas in their house. They both enjoyed the recipe, although would make their pudding runnier next time so it really soaks into the Nilla' Wafers. If you make this recipe, be sure to stir constantly as you make the pudding so it doesn't scorch in the pan, and watch the meringue closely at the end so you don't burn it.
Debuting as next week's bake-along  is one of the hosts' favorite custards – Crème brûlée! Andrea selected a recipe from Tom Fitzmorris, host of The Food Show on WWL in New Orleans. Andrea has lots of memories associated with this dish, as she grew up eating crème brûlée and listening to Tom talk about food on his daily radio show.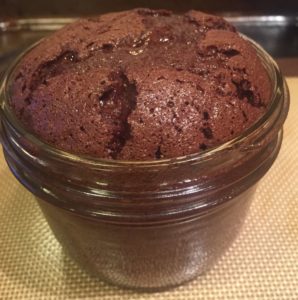 What are Stefin and Andrea's TNT (Tried n' True) recipes? These are the recipes they know by heart, and are guaranteed to turn out every time. Some of Stefin's are Carolynn's Chocolate Chip Cookies from Martha Stewart, Bon Appetit's Banana Chocolate Chip Muffins, and Sheila Lukin's Zucchini Bread. Andrea's favorite is Molten Chocolate Mousse Cups, which are adorable in their small mason jars and have the added bonus of being able to make ahead and freeze.
Listeners, what are your TNT recipes?
 ==
If  you're intrigued by our podcast, make it easy on yourself and subscribe. That way you can listen to more than one episode, and have them download automatically on your phone or tablet.
*Amazon links are affiliate, meaning we receive a few cents when you purchase through our link.