Have you read the article making the rounds on Facebook regarding why baking for others leads to happiness? It wasn't written by your Preheated hosts, but it could have been! Both agree that baking can act as a mindful meditation, which calms you down and lets you focus on the task at hand. And, as Andrea astutely points out, not being mindful in the kitchen can lead to some baking disasters (brownie soup, anyone?).
And speaking of brownies, Andrea tried a new recipe, Snowy Topped Brownie Drops, and she's got a bit of a mystery on her hands.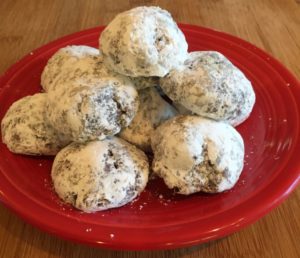 These little brownie bites were coated with confectioners sugar before baking, but this led to a gooey mess for Andrea. She's heard about a "no-melt" confectioners sugar sold by King Arthur that may lead to success, but it's possible she misunderstood some of the recipe steps and should have coated them after they came out of the oven.
Listeners: Do you have experience with "no-melt" confectioners sugar, and/or have you tried the Snowy Topped Brownie Drops and can offer counsel to Andrea about what may have gone wrong?
Neither host could argue with cookies for breakfast, and Dorie Greenspan's Breakfast Biscotti turned out great for both. Stefin liked that she had all the ingredients on hand. She also recommends doing a single bake if you like a chewier texture, and adding chocolate chips if you have kids. Andrea skipped the cinnamon and some of the almonds, and contemplated coating her next batch in a robe of melted chocolate (listener Cobie's trademark). This is another win for the "Big Batch" category, too, as they last forever on your counter.
Our Facebook fans chimed in with so many delicious-sounding breakfast treats, we hardly know where to start. They love cinnamon rolls, orange rolls, French toast casserole, coffeecake, Dutch Baby and other puffy pancakes, scones, and Liege waffles –which listener Kristin explained are like a Belgian waffle, but feature caramelized sugar on top! And we're on board with listener Kalena, who says her favorite treat at breakfast time is leftover cake. Kalena, you're our kind of gal.
Finally, do you miss seeing pie on dessert menus these days? A recent "Rant and Rave" from the Seattle Times' weekly column strikes a chord with both hosts, who weigh in with their own pie-related rant and raves. "In a complicated world, bring back pie!"
---
If  you're intrigued by our podcast, make it easy on yourself and subscribe. That way you can listen to more than one episode, and have them download automatically on your phone or tablet.
*Amazon links are affiliate, meaning we receive a few cents when you purchase through our link.