The arrival of fresh rhubarb in the market is keeping Stefin and Andrea hopeful that spring is right around the corner, despite the continuing rain in the Pacific Northwest. Andrea's baked up Kate McDermott's Rhuberry Bluebarb pie and Joy the Baker's Strawberry Rhubarb Crumb pie which her husband declared "the best pie ever." Andrea wonders where all the frozen peaches in the store are, and encourages listeners to savor any they have hiding in their freezers. Lastly, the new podcast Olympia Appetizer has caught Andrea's ears, and she is looking forward to participating in and reporting from a local cookbook club sponsored by Browsers Bookstore in Olympia.
Listeners, do you participate in a cookbook club? What's the magic number of participants that works for you?
The hosts turn their attention to their review of the St. Louis Gooey Butter Cake they introduced in Episode 25, which was a huge hit for Stefin and her family, and she recommends it room temperature or warm from the oven. Andrea was less successful, killing her yeast with water that was too hot on her first attempt, then melting the cake covered in plastic wrap on the second attempt. As they say "the third time's a charm," and the cake worked beautifully.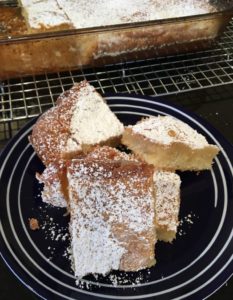 Next up on the Regional Food Tour, the hosts introduce the state dessert of Massachusetts, the Boston Cream Pie. This dessert comes from food blogger Rebecca at the Sugar & Soul website. Both the hosts agree they will be reducing the amount of time they beat the cake batter, and use a medium speed, rather than high.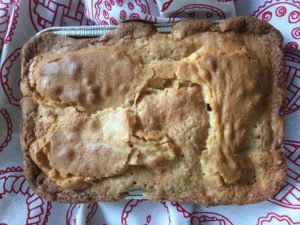 Up next, step on into Intimidation Station where the hosts discuss the best way to separate eggs. Both our hosts crack their eggs and use the shells to separate the white from the yolk. Andrea uses her leftover yolks for ice cream, and is wanting to try lemon curd with her next batch of yolks. Stefin uses her leftover whites in a white cake that she'll be needing for her checkerboard cake, and she's interested in trying a lemon mousse. Andrea is hoping to one day tackle a financier with her leftover whites.
Listeners, what do you do with your leftover yolks or whites?
---
If  you're intrigued by our podcast, make it easy on yourself and subscribe. That way you can listen to more than one episode, and have them download automatically on your phone or tablet.
*Amazon links are affiliate, meaning we receive a few cents when you purchase through our link.
Save
Save
Save
Save
Save
Save
Save