Andrea starts off sharing her latest baking experience – homemade energy chews. She tried the recipe from PopSugar and the silicone molds from Amazon.com, which might be used to make other candies or drops in the future. Stefin praised her sifter in our Facebook group, listener Betty did a one-upper with a photo of her 59 year old sifter, and Andrea admitted to not having a tablespoon measure or a half cup measure, so she splurged for both and is enjoying the new colors in her kitchen.
Next up, our hosts reviewed the unique bizcochito cookie recipe from New Mexico. Andrea had great success with hers, found them easy to make, and eat! Even a group of 11 year old girls loved them.  Stefin found the anise flavoring a bit too strong, and decided next time she won't smash the anise seeds in advance.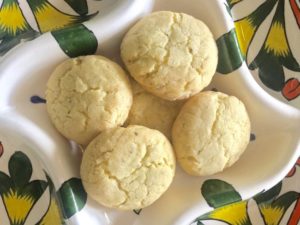 Back on our culinary tour, our hosts head South for some famous Texas Sheet Cake. Stefin shared some research from the Library of Congress about the origins of this dessert, and ultimately ended up picking a recipe from someone named Chocoholic in a community cookbook. The recipe tagline "This is the ultimate chocolate brownie" has Andrea on board already!
Next up, a discussion about some Baking 911 issues. From over-salting to being out of a key ingredient, the hosts shared some tips and flexed their math skills to recover from some of the most common baking emergencies.
Listeners, what's your best tip on recovering from a baking disaster?
---
If  you're intrigued by our podcast, make it easy on yourself and subscribe. That way you can listen to more than one episode, and have them download automatically on your phone or tablet.
*Amazon links are affiliate, meaning we receive a few cents when you purchase through our link.
Save
Save
Save
Save
Save
Save
Save
Save