Have you heard of Little Free Libraries? These tiny and precious "take a book, leave a book" stations are popular in Seattle and beyond.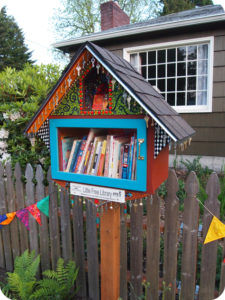 Stefin learned of Growing Up On the Chocolate Diet by Lora Brody in her latest Little Free Library find, and recommends this memoir for both the writing and the recipes. Andrea discussed her "staples" cookbook evolution which started with River Road Recipes, on to Silver Palate, and she finally settled on How to Cook Everything by Mark Bittman.
Speaking of summer reading, our hosts shared their favorite summer reading memories. Stefin fondly recalled the library challenges from her childhood summers, but her most special memory is lying in a hammock at her grandparent's house in Michigan while she read the day away, then had a mini-book club chat with her Grandmother. Andrea shared her summer memory of discovering Pat Conroy when she read The Great Santini, and how his atmospheric writing captured her imagination completely.
Listeners, what's on your summer reading list?
Up next is the hosts' review of David Lebovitz's Agave Sweetened Chocolate Ice Cream. Stefin ranked this as 'simply the best chocolate ice cream.' She had to modify the recipe a bit by adding in some cornstarch after a slight mishap (scrambled eggs) in the custard step. She loved the flavor, color, and deep richness of the ice cream. Andrea ran into the same problem, and her custard mixture turned a bit into scrambled eggs. Next time she'll use a flame tamer, as David recommended, and lower the heat during the custard stage.
Next week's recipe is Spicy Peanut Butter Ice Cream from the Soap Queen. Join us as we explore this unique flavor, and, as an added bonus, it's gluten-free and dairy-free!
---
If  you're intrigued by our podcast, make it easy on yourself and subscribe on Apple Podcasts. That way you can listen to more than one episode, and have them download automatically on your phone or tablet. You can also bake along with us in our Facebook group, Preheated.
*Amazon links are affiliate, meaning we receive a few cents when you purchase through our link.
Save
Save
Save
Save
Save
Save