In the midst of preparing for an international move, host Stefin is laser focused on the important issues…can she, or can she not, bring her electric ice cream machine? Husband to the rescue, an international adapter has been found and despite being the size of a small suitcase, Stefin is overjoyed to have it. Into the suitcase goes the ice cream maker, the stand mixer, and all the other important kitchen small appliances! We also get an ice cream update from the May issue of Better Homes and Gardens with some adventurous combinations…sweet corn ice cream, anyone?
On to the review of our Spicy Peanut Butter Ice Cream from Soap Queen. Stefin felt this was definitely the easiest recipe we explored during June. While she really liked the ice cream, she was the only one in her family who did. Her kids thought it was too spicy, and her husband felt it tasted like "frozen Tom Kha Gai soup," (not that we find that to be a problem!) Stefin loved the ice cream herself, finding it to be an unusual and delicious flavor combination. Andrea and her husband absolutely love this ice cream, although her daughter wasn't crazy about it – too spicy! If you're making this recipe for small children, feel free to back off on the cayenne.
Ice cream cakes captured both of our hosts imaginations in early childhood, and their interest hasn't waned.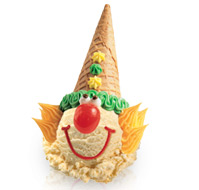 Stefin still recalls her early fascination with a Baskin Robbins clown cone. It's easy to make ice cream cakes at home, with layers of cake (or brownies) and a layer of ice cream in between. Cookie crumbles, chopped up candy bars, and some whipped cream easily top off the cake and make a nice presentation. Stay tuned to see if Stefin finds ice cream cakes in England, or if she will be the one to introduce ice cream cakes abroad!
Our hosts turn their attention to store bought favorites. Stefin loves Ben & Jerry's Tonight Dough and Steve's Southern Banana Pudding, while Andrea loves Talenti Coffee Toffee Gelato and especially enjoys recycling the containers. Turns out she's not the only one – check out the Talenti pintcycling contest! And if you're in Vermont, be sure to visit the Ben & Jerry's factory on Stefin's recommendation.
Listeners, what's your favorite store bought ice cream?
Next month we'll be trying something a little different…in the time-honored tradition of a summer vacation, we'll be taking our own version of a break in July by releasing short and sweet Quick Bite episodes every week. These shorter episodes will allow Stefin to get settled in a new country and give Andrea some much-needed training time outdoors on her bike!
---
If  you're intrigued by our podcast, make it easy on yourself and subscribe on Apple Podcasts. That way you can listen to more than one episode, and have them download automatically on your phone or tablet. You can also bake along with us in our Facebook group, Preheated.
*Amazon links are affiliate, meaning we receive a few cents when you purchase through our link.
Save
Save
Save
Save
Save
Save
Save
Save
Save