This week Stefin finds a new protein packed snack from Good Housekeeping magazine, the Spiced Plum Quinoa Muffin. If you're looking for a quick way to add protein to your breakfast pastry, try this out. Andrea is raving about audiobooks, especially those she can check out from Overdrive through her library. She and her 6th grade daughter enjoyed We Are All Made of Molecules and she is currently finishing A Spool of Blue Thread by Anne Tyler.
Listeners, do you have any audiobooks to recommend?
Stefin and Andrea both loved the Chocolate Oatmeal Peanut Butter Bars from A Dash of Sanity, although they struggled with the execution of the recipe. Stefin used a glass pan (despite recipe instructions to use a metal pan), substituted golden syrup for Karo syrup, and used 'porridge oats' instead of rolled oats. Her biggest challenge was finding chocolate chips in London, so she substituted Cadbury giant chocolate buttons. Andrea's bars crumbled and the bar layer separated from the chocolate layer, which may be attributed to the fact that she melted the butter (instead of softening it), and she used 4 cups of rolled oats instead of 3 cups of instant oats + 1 cup rolled oats. Both hosts recommend following the steps and ingredients carefully for better success on this recipe! Also be sure to plan ahead as this recipe involves cooling and an overnight in the fridge.
Next weeks' recipe is inspired by Stefin's shameful admission of a love for the grocery store sugar cookies that might not have the best ingredients! Next week we'll be baking up a big batch of these Sugar Cookie Bars from Together As a Family to try and re-create a healthier version at home.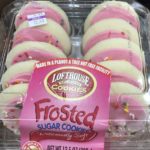 Did you know that Stefin was the March 1990 Food Student of the Month from Everett High School? Stefin shared her fond high school home ec memories while Andrea lamented the lack of home economics in her high school, although it was overcome with the convenience and deliciousness of daily po-boy sandwiches!
Listeners, what are your home ec memories from school?
---
If  you're intrigued by our podcast, make it easy on yourself and subscribe on Apple Podcasts. That way you can listen to more than one episode, and have them download automatically on your phone or tablet. You can also bake along with us in our Facebook group, Preheated.
*Amazon links are affiliate, meaning we receive a few cents when you purchase through our link.
Save