Baking horoscopes?!?! Andrea is shocked to learn such a thing exists, and even more impressed when her Scorpio loves of wine, root vegetables, and all foods dark and damp prove true. Stefin's is a bit off – while she does love to experience exotic foods in her travel; turbot and lamb are not first on her list of favorites. But she certainly is a "fun bunny" and always up for bubbles and laughs! Check out your baking horoscope from Penny Thornton in The Zodiac Cooks. In other books, Andrea is recommending Thanksgiving: How to Cook it Well by Sam Sifton and enjoys his take on appetizers and salads at Thanksgiving (Hint: Just Say No).
This week's recipe review is Mary Berry's American Baked Cheesecake and both hosts struggled a bit with the recipe. Be sure to use the specified 8 inch or 20cm pan or else you won't have enough of the crust and filling. Both our hosts were baffled by Step 5 in the recipe – do you leave the cheesecake in the oven after turning the oven off? Overall, Stefin wished for more crust, and would prefer a different crust, perhaps something more oaty and dense. Here's a picture of Stefin's cheesecake wit the beautiful rose jam topping.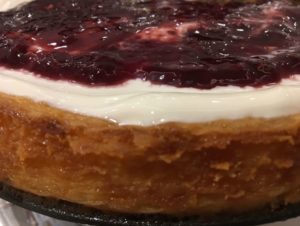 Andrea replaced the chocolate biscuit with a ginger thin, which proved to be a delicious substitution. Next time some lemon in the filling, perhaps?
Stefin's favorite birthday cake is the Chocolate Stout Cake, a magnificent, show-stopping, 3-layer masterpiece. Stefin always uses bittersweet chocolate in the ganache topping, and halves the icing quantity, as she finds the cake to already be rich and sweet. Andrea is entranced with the idea of the Party Cake Builder in Smitten Kitchen Every Day, the new cookbook from Deb Perelman. Spice, chocolate, vanilla and coconut cakes are listed along with four frostings – chocolate, vanilla, coconut and cream cheese. These are the closest approximations of her childhood birthday cakes that her mom made, simple and nostalgic.
It's time for the hosts to award their First Year Blue Ribbon for their favorite recipe of the year! Stefin listed several to consider: Episode 2, Pumpkin Bundt; Episode 6, Happy People Fudge; Episode 11: Baklava; Episode 12.5, Raspberry Flummery; Episode 16, Chocolate Chess Pie; Episode 23, Jalapeno Cheddar Scones; Episode 27, Boston Cream Pie; All the ice creams in June, Episodes 30, 31, 32; Episode 41, Blueberry Banana Cake; and Episode 45, Lemon Drizzle Cake. Andrea had some similar choices – Happy People Fudge and Chocolate Chess Pie made her list, also Episode 21, Creme Brulee; Episode 30, Roasted Strawberry Buttermilk Ice Cream; Episode 43, Chocolate Oatmeal Peanut Butter Bars; Episode 44, Sugar Cookie Bars; and another common choice – Episode 45, Lemon Drizzle Cake.
Stefin awarded her blue ribbon to the Chocolate Chess Pie because it's easy to make, has readily available ingredients, is good for kids, and is an excellent entry point for pie making! Andrea picked her favorites by selecting the ones she made over and over again, and the Lemon Drizzle Cake was her clear winner, good anytime – day or night, and as a loaf cake or a mini bundt!
Listeners, we hope you enjoyed our first year as much as we did!
——-
If  you're intrigued by our podcast, make it easy on yourself and subscribe on Apple Podcasts. That way you can listen to more than one episode, and have them download automatically on your phone or tablet. You can also bake along with us in our Facebook group, Preheated.
*Amazon links are affiliate, meaning we receive a few cents when you purchase through our link.