King Arthur has named their 2018 Recipe of the Year – a whole grain banana bread that uses whole wheat flour in addition to regular all-purpose flour. With Preheaters being big fans of banana bread, we look forward to hearing if our listeners try this new recipe and have success with it. Preheaters are also struggling with recipe organization and we hope to shed some light on new ways to organize!
This week's recipe review is the London Fog Shortbread from Oleanerandpalm.com which was a hit with both our hosts (but not their children).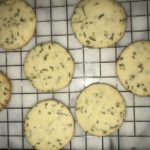 It is a sophisticated cookie that uses loose Earl Grey tea leaves and produced a crisp and buttery shortbread with a unique flavor. Andrea used a Cream Earl Grey blend from Encore Chocolates & Teas in Olympia and bumped up the tea and vanilla ingredients a bit for some additional flavor. She also used rolling pin rings to roll her crust into an even size. Stefin's modifications included making the shortbread a bit thicker than 1/4 inch, and using a 175 degree Celsius fan oven for 10 minutes. Both hosts felt these were some of the most beautiful cookies they have made.
This week's bake along is a Contest Winning Moist Chocolate Cake from Taste of Home. It's a one bowl recipe in a bundt that should be a quick and delicious cake, and Andrea is very excited about the coffee component! Please bake along with us and post photos in our Preheated group on Facebook. It's been a while since we did a bundt cake (all the way back to Episode 2). Stefin is wondering how her bundt is going to turn out without her beloved Baker's Joy…any suggestions?
Stefin reported in for the Globetrotting Gourmet about her recent trip to Morocco. Some highlights of the trip were a cooking class with Souk Cuisine that included a visit to the market, where Stefin experienced first-hand the incredibly high standards and freshness of Moroccan produce and spices. They made two desserts in class, a cookie with sesame seeds and orange flower water, and a polenta cookie with coconut (very similar to a pecan shortbread). Perhaps the highlight of the trip was being able to experience the community oven, where an expert baker will bake your items while you hang out, chat, and drink your mint tea. Andrea also traveled to a slightly less exotic (but no less beautiful) locale and visited Victoria, British Columbia where she was challenged with a rainy few days. Despite the weather she enjoyed a chocolate mousse in a brandy snap basket from the Tapa Bar and some espresso shortbread cookies from The Drake Eatery.
Listeners, we'd like your input on our March Theme: Bread? Childhood Favorites? Something else?
——-
If  you're intrigued by our podcast, make it easy on yourself and subscribe on Apple Podcasts. That way you can listen to more than one episode, and have them download automatically on your phone or tablet. You can also bake along with us in our Facebook group, Preheated.
*Amazon links are affiliate, meaning we receive a few cents when you purchase through our link.