Inspired by loyal "Preheater" Heather, Andrea's cleaning out her refrigerator for a Mocha Ricotta Puff cookie recipe, causing Stefin to flashback to the duo's days on "the Beach" — the South Beach Diet that is!
Both hosts spent an entire day in their kitchens whipping up pastry-case favorite kougin amann, even though hands-on time was a more reasonable 1-1.5 hours. This was an invigorating but frustrating recipe: Andrea couldn't get her dough to rise in the fridge, and Stefin's pastries ended up being too small to justify a jumbo muffin tin.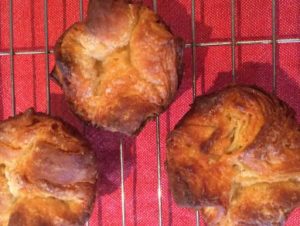 After a quick detour into the Language Lab to discover that pastries such as kougin amann, croissants and palmiers fit in a category known as laminated dough, the hosts decide they'll enjoy this treat at their local bakery.
Listeners: If you had success with this recipe, let us know your tricks!
Cookies for breakfast? That's right! Dorie Greenspan's Breakfast Biscotti, which relies on pantry staples and (mega bonus) keeps all week on your counter, is up next. Big Batch Breakfast Baking at its finest! And, visit the Food52 Facebook page to bake along with other recipes from Dorie's Cookies this month — and plug Preheated, of course!
Finally, Stefin and Andrea settle into comfy chairs for the Preheated Podcast Book Club. Stefin says avoid Sweetbitter by Stephanie Danler if you plan to eat out anytime soon, and Andrea wonders if buying a 961-page "magnum opus" science/cookbook is worth it.
Listeners: Do you have J. Kenji Lopez Alt's The Food Lab: Better Cooking Through Science, and do you recommend Andrea shell out for her own copy?
==
If  you're intrigued by our podcast, make it easy on yourself and subscribe. That way you can listen to more than one episode, and have them download automatically on your phone or tablet.
*Amazon links are affiliate, meaning we receive a few cents when you purchase through our link.