Fresh off a thrilling Preheated Help Desk call, we learn that listener Mary Beth (creator of the always reliable Mary Beth's Pie Crust recipe), freezes her pies in mason jars, so she always has a stack of single serving pies in her freezer. Stefin agreed it sounds delicious but warned us to learn from listener Annemarie, who had a mason jar crack when baking her egg scramble last week.
Stefin's scheduling skills are put to the test as she tackles her son's birthday, her daughter's birthday, birthday parties, and her college reunion in a very short span of time. Stay tuned to see how her son's checkerboard cake turns out!
May kicks off a month off regional treats, and our hosts make their first stop in St. Louis (via this recipe from Molly Killeen who runs a Midwestern restaurant in Brooklyn) with the Depression era St. Louis Gooey Butter Cake. Stefin is a huge fan of this cake, while Andrea has never seen or heard of it. Check out the Wikipedia article on Gooey Butter Cake if this is a new recipe for you.
But now for the really big news….Stefin and her family are moving to London! Don't worry listeners, the Preheated podcast plans to continue. But first, Andrea quizzed Stefin on her knowledge of British cooking celebrities, methods and measurements. Stefin nailed the quiz and appears ready to preheat her oven to Gas Mark 4. Thanks to the Baking Buddies Facebook group for all of the help creating the quiz.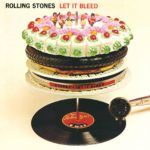 And here's a picture of that Rolling Stones album cover with a cake baked by the then unknown Delia Smith.
---
If  you're intrigued by our podcast, make it easy on yourself and subscribe. That way you can listen to more than one episode, and have them download automatically on your phone or tablet.
*Amazon links are affiliate, meaning we receive a few cents when you purchase through our link.
Save
Save
Save