Stefin kicks off the show with some of her recent breakfast finds: Bacon Gruyere Breakfast Pie from Good Housekeeping (because it's never too early for pizza!), Banana Bread French Toast, and cooking with charcoal from the Seattle Times. While our hosts don't generally follow trends originating with Gwyneth Paltrow, they are intrigued with this strange new recipe.
Listeners, have you tried cooking with activated charcoal? What did you think?
Yogurt Biscuits and Jalapeno Cheddar Scones
On to the savory breakfast reviews! Mark Bittman's Yogurt Biscuits were a huge hit. Stefin used whole milk Chobani Greek yogurt, while Andrea used a runnier whole milk yogurt from Stonyfield. Both hosts always have yogurt in their fridge, so this recipe is definitely going into the regular repertoire.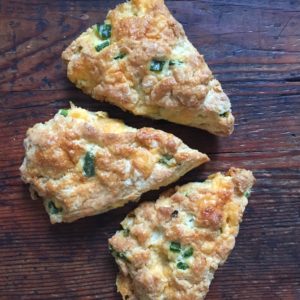 The Jalapeno Cheddar Scones from Smitten Kitchen were another huge hit, with our families crowding around the oven and trying the scones hot out of the oven. Stefin bumped up her scones by adding some homemade honey butter!
Coffeecake
Listener Amy posted a great coffeecake recipe on our Facebook Preheated group. Check it out! Stefin shared her experience of ordering Legendary Sour Cream Coffee Cake from Zingermans, and has found Ina Garten's recipe to be the closest to the Zingerman's cake. Andrea longs for a return to the days of a cup of coffee and a slice of cake in the afternoon, when people had time to sit and chat over a slice of cake.
Listeners, do you have any special coffee cake recipes?
Baking Contests
Whether it's a State Fair, a nationwide magazine contest, or a local event, it seems there's a baking contest for everyone these days. Check out the Amateur Division of the National Pie Council! Some tips from winners:
Focus on ingredients, get fresh, local fruit from the farmers market if possible
Don't worry about looks – "If you bake it, you take it." You never know what the judges are looking for.
Be original, give the judges something different to make your baked item stand out and be memorable.
Follow the rules, plan ahead, and do a few test runs before the big day.
Andrea shared her award winning Winter Squash pie experience, while Stefin got to relive the glory of winning the December 1997 Better Homes & Gardens Reader Recipe Contest with her Cranberry Twist bread in the Holiday Bread competition.
Have you ever won a baking contest?
---
If  you're intrigued by our podcast, make it easy on yourself and subscribe. That way you can listen to more than one episode, and have them download automatically on your phone or tablet.
*Amazon links are affiliate, meaning we receive a few cents when you purchase through our link.
Save